Today's homes play many roles in our lives: a place where families make memories, a private sanctuary, and it can even double as a workplace.
For innovative design and build company Futureflip, that makes electric home design an important part of their luxury new home and custom duplex builds in the Sydney and South NSW Coast region.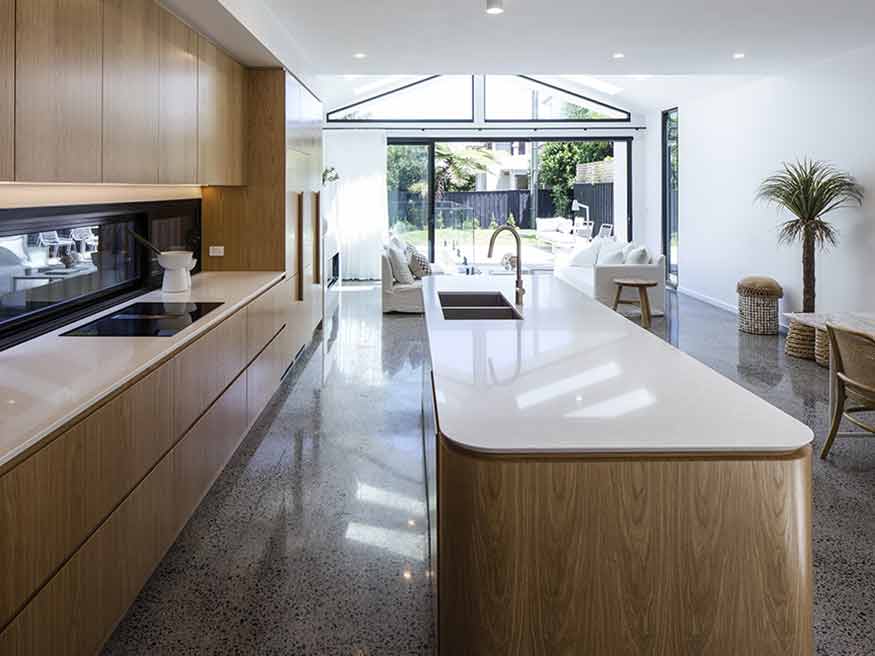 Modern living made easy
Futureflip's recent Salisbury project in Waverley saw them create two contemporary detached Scandi-barn silhouette homes. The western home features a soft, coastal palette of whites and a breezeblock white brick façade, while the eastern home combines concrete and timber on the exterior.
Inside, both are spacious and airy with natural elements of oak, stone and marble and modern accents from black appliances throughout. Both properties also include luxury features such as pools, fireplaces and smart home automation.
Futureflip's founding director, Neil Hipwell, says that tailoring a home to a client's lifestyle is key. "We always ask clients about how they want to live so we can get a feel for how they want to control their home. What temperature do they like their house at when they come home from work? What light setting do they like? Then we can integrate all of that into the smart home system."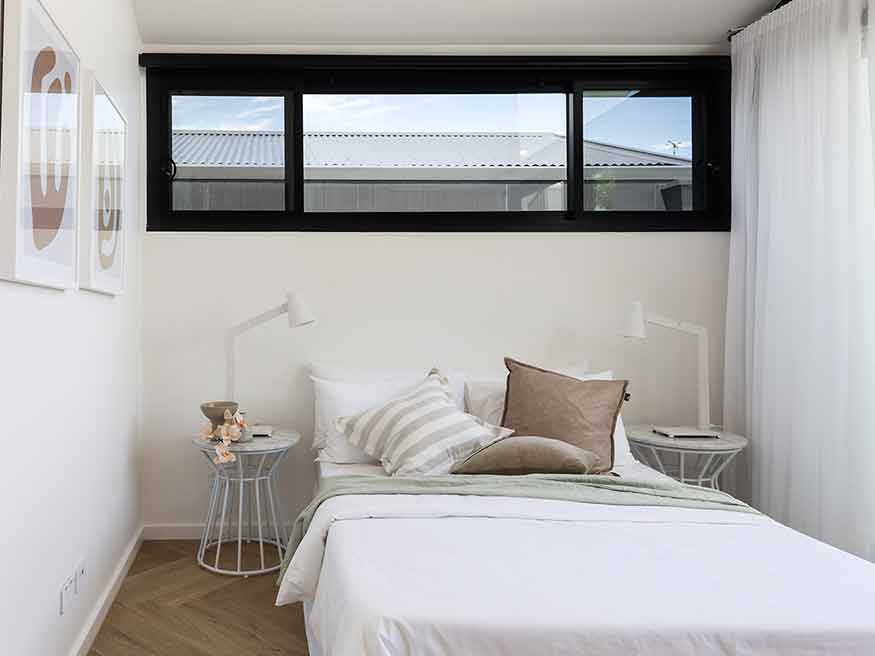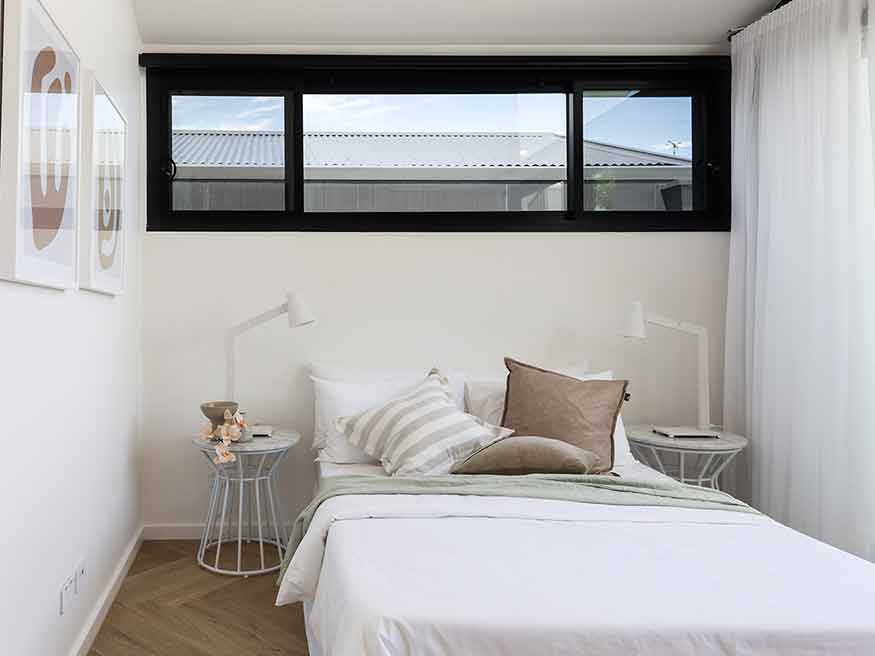 Creating intuitive homes
To achieve the chosen electric home design, Futureflip uses the Clipsal Wiser Smart Home system, to create homes where features like lighting, blinds, climate control, music and security can be fully controlled, linked and customised by the homeowner from their smartphone, anywhere in the world.
With a range of task and feature lighting inside and outside, as well as AV systems, automatic blinds, air conditioning, fireplaces, pools and alarms, the Salisbury project is an example of how smart home automation can simplify daily life.
Perfect moments
"I love that you can create 'moments' where you can group multiple actions," says Neil. "A 'Movie Moment' at Salisbury dims the lights and switches off the music and turns on the TV. This allows for a really luxurious, yet efficient experience for the homeowner."
The Salisbury homes also have bathroom humidity sensors to activate exhaust fans, and automatic blinds that can be programmed separately in each room.
"Wiser is the perfect smart home automation choice for new builds or renovations as it is user-friendly, cost-effective, and allows clients to add more devices to their system as time goes on." explains Neil
Creating an energy-efficient home
Using smart home automation also empowers the owners to live as well as possible by helping to reduce energy consumption.
"Energy-efficiency is really important to us at Futureflip," says Neil. "Smart home technology allows us to ensure that this commitment to energy efficiency is carried through after handover, and that the new homeowner has all the tools they need to minimise any energy waste."
Using automation and timers through Wiser lets them achieve more effective home-climate management and makes sure that power is only used when needed, and never wasted.
Quality products
Futureflip only chooses to use high-quality products, for longevity in their builds. Products of a lesser quality might be less expensive at the outset, but often don't last or become outdated or obsolete quickly and end up in landfill.
Neil's team used the Clipsal Iconic range of switches and power points, LED downlights, smoke alarms, and exhaust fans throughout the Salisbury homes as high-end finishes were a key factor in creating the luxurious and contemporary feel.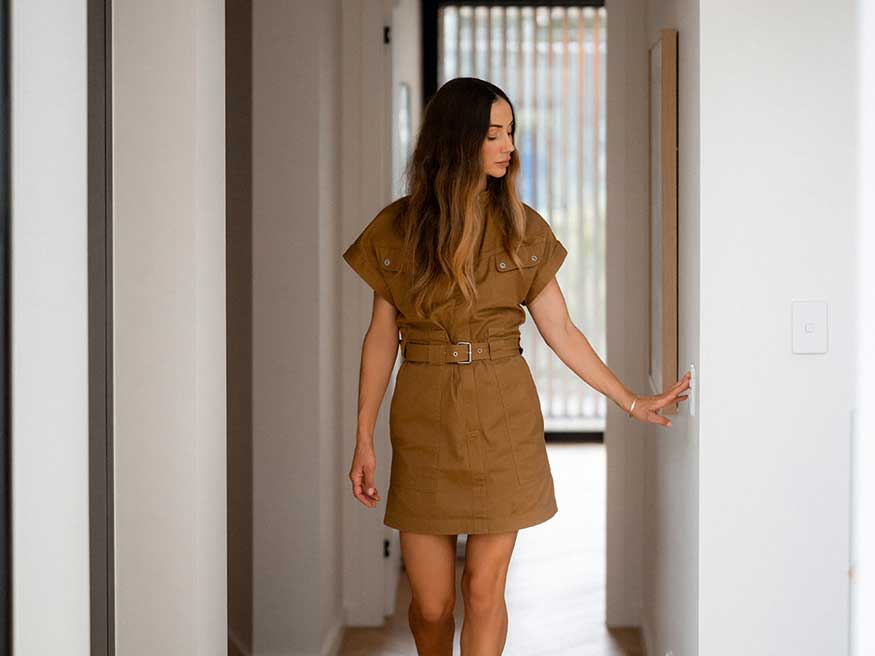 Streamlined living
With so many electrical features an essential part of daily life, having simple touch screen control of our homes can make living in them that much more enjoyable – as the owners of the Salisbury project homes have discovered.
"Clipsal Wiser Smart Home helps to save on energy bills, provides peace of mind and a really streamlined way of living," says Neil. "It's the perfect solution for people with busy lives."