As homeowners seek to maximise their living spaces, outdoor areas have taken on newfound importance.
The outdoor living space, has become an extension of the home — a place to unwind, entertain, and connect with nature. Clipsal Wiser, the innovative home automation system, can take your outdoor living to the next level. In this blog, we'll explore how Clipsal Wiser can transform your outdoor oasis into a hub of smart comfort and entertainment.
Get more from Clipsal Wiser
Clipsal Wiser is a versatile home automation solution that empowers homeowners to control and automate various aspects of their living spaces, including lighting, climate control, security, and entertainment.
Here's how Clipsal Wiser can revolutionise your outdoor living area:
Ambient Lighting
Outdoor lighting sets the mood and ambiance for your outdoor living space.
With Clipsal Wiser, you have precise control over your outdoor lighting. Create custom lighting scenes for different occasions, whether it's a romantic dinner under the stars or a lively outdoor party.
You can adjust the brightness and color of your lights effortlessly using your smartphone or voice commands.
Climate Control
Comfort is key when it comes to outdoor living. Clipsal Wiser integrates with smart fan controllers, enabling you to maintain the perfect outdoor climate.
Set schedules to ensure your outdoor space is cozy and comfortable for gatherings, or save energy when the area is unoccupied.
Outdoor Entertainment
Transform your outdoor living area into an entertainment hub with Clipsal Wiser.
You can seamlessly control outdoor TVs, audio systems, and even outdoor projectors.
Enjoy outdoor movie nights, stream music, or catch your favorite game under the open sky with ease.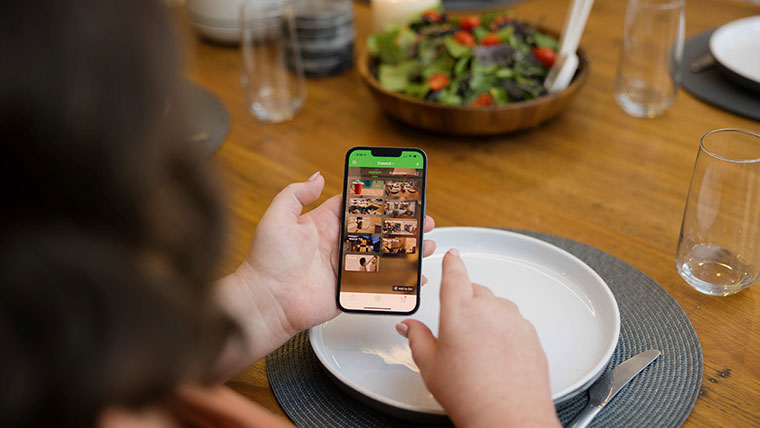 Automated Features
Clipsal Wiser allows you to create automation routines that enhance your outdoor living experience.
For instance, you can automate outdoor shades or pergolas to open or close based on the weather or time of day. You can also schedule outdoor lights to turn on at sunset and off at bedtime, making your outdoor space effortlessly inviting.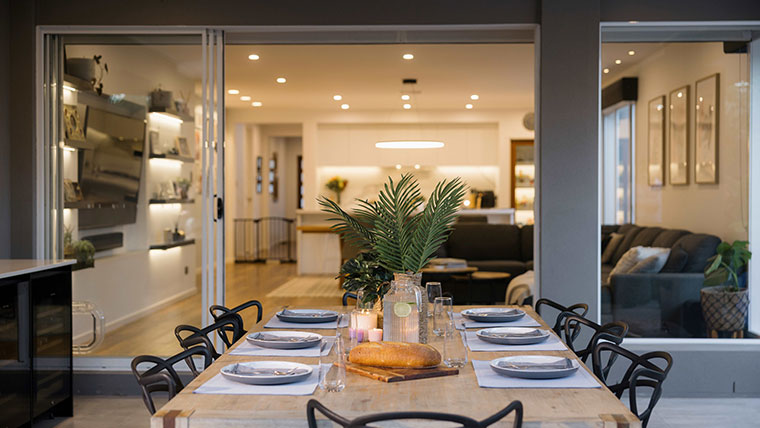 Voice Control
Clipsal Wiser is compatible with popular voice assistants like Amazon Alexa and Google Assistant, making it convenient to control your outdoor devices and features with simple voice commands.
Adjust the temperature, change the lighting, or start a movie night — all without leaving your outdoor seating.
Security and Surveillance
Keep your outdoor living area secure with Clipsal Wiser's integration with smart cameras and motion sensors. Receive real-time alerts and monitor your outdoor space remotely, ensuring peace of mind whether you're home or away.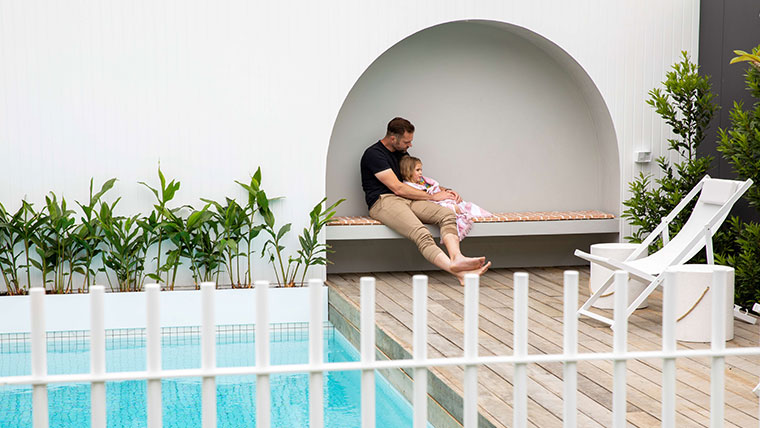 Energy Efficiency
Clipsal Wiser promotes energy efficiency even in your outdoor living space. Set timers and automation routines to prevent lights and devices from being left on unnecessarily, contributing to energy savings.
Clipsal Wiser offers endless possibilities to transform your outdoor living area into a haven of comfort and entertainment. Whether you're looking to create the perfect ambiance, control your outdoor entertainment, or enhance security, Clipsal Wiser has you covered. With its intuitive control options, seamless integration with a variety of devices, and energy-saving features, Clipsal Wiser is the perfect solution to make the most of your outdoor oasis. It's time to embrace the future of smart living in your open-air haven with Clipsal Wiser.
Electric Home Design Magazine
Room-by-room inspiration and planning advice