Electric home design adds comfort and convenience to everyday living in this modern home.
Builder Troy Klemm and interior designer Carmel Siciliano-Klemm from boutique building company, Klemm Homes, pride themselves on building luxurious new homes in Adelaide with careful attention to detail: from the construction materials chosen through to the perfect light switches.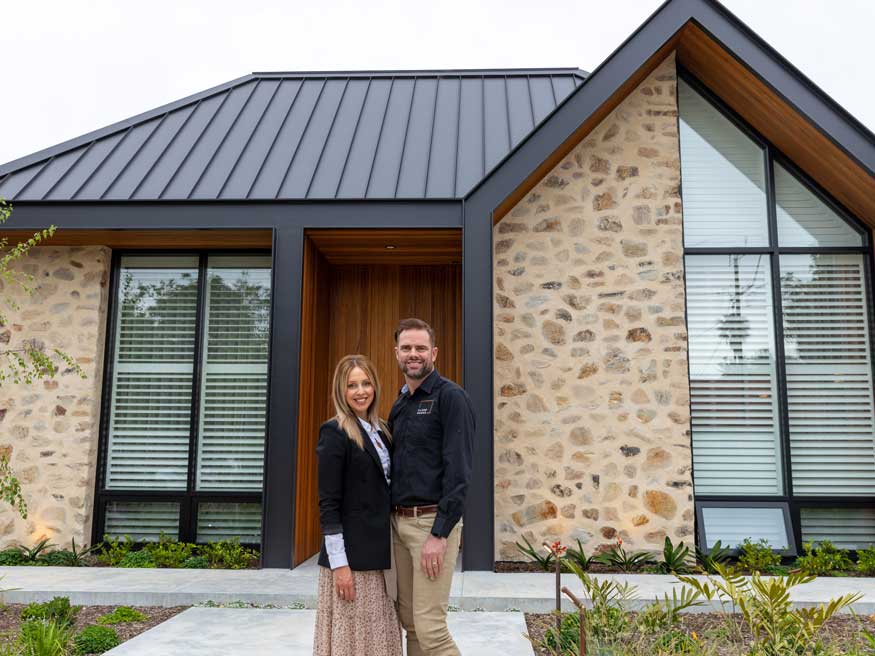 A place to call home
"We just completed building our dream home" says Carmel. "To me, that means a home that is sustainable, energy-efficient and fully automated," adds Troy.
"We're very, very busy people so when we were building it was very important for us to include Wiser Smart Home solutions." Carmel agrees.
Carmel delightfully laughs and adds: "Troy thinks he is James Bond by sending a command to turn on the TV when we have a dinner party, and it pops out of the cabinet!"
At Klemm Homes, creating a well-designed home that makes use of passive heating and cooling (using the sun and natural shade) simply makes sense, and so does using quality products for longevity, and smart home automation for energy-efficiency and a more streamlined and enjoyable experience of the home.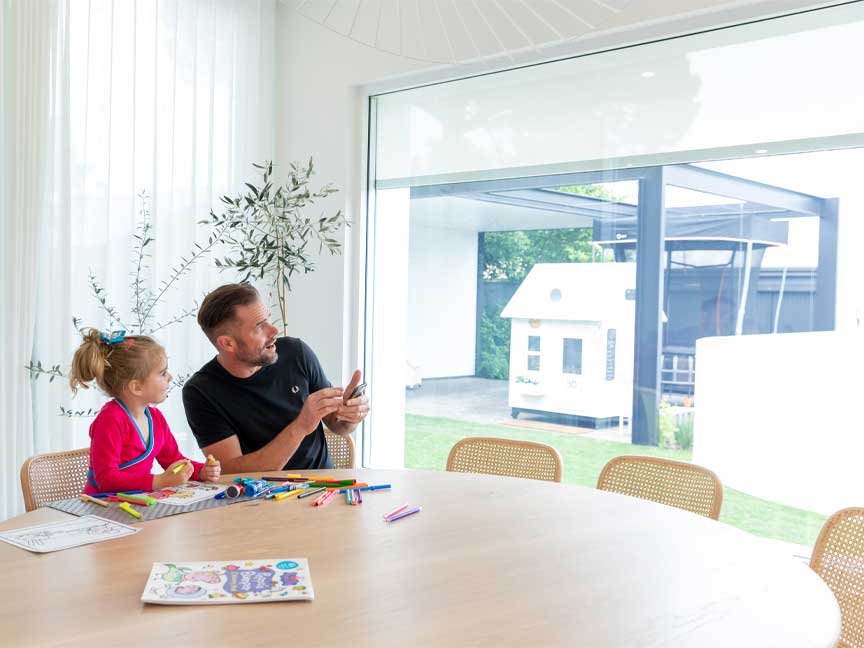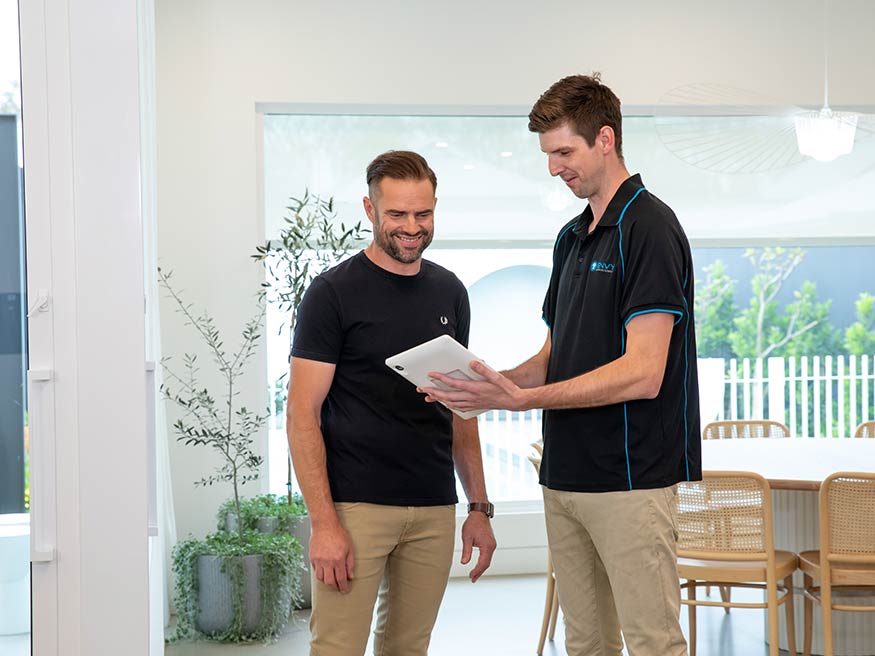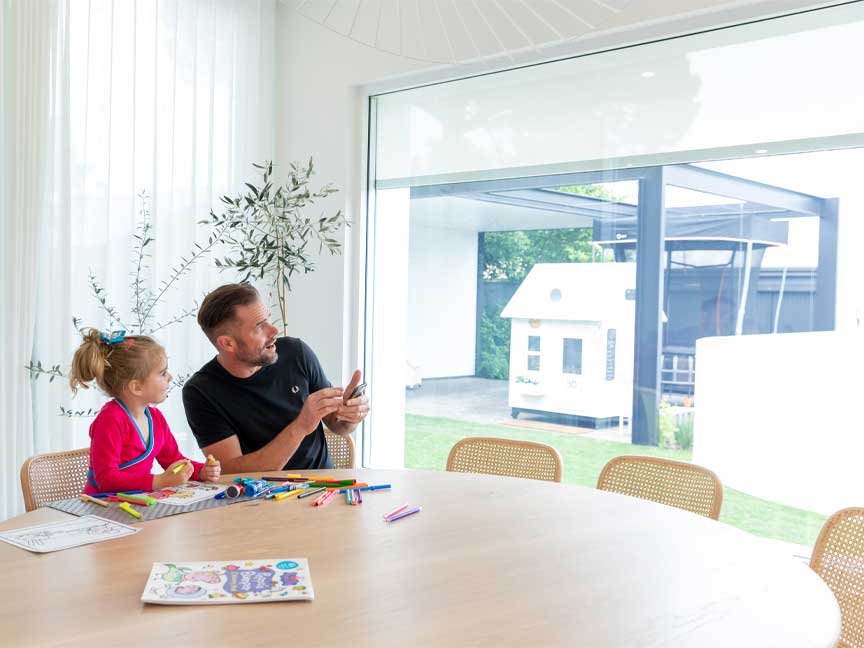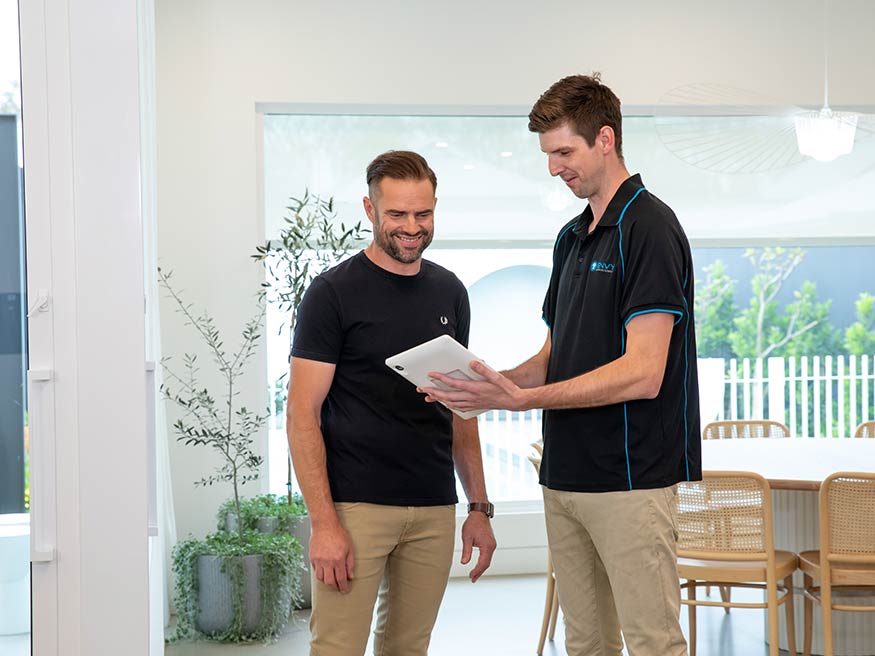 Starting with electric home design
The conversation around electric home design starts from the first meeting with clients. "We love to show off our automation solutions so our clients know exactly what they could have in their own house," says Troy.

"Wiser is a scalable smart home solution that can start from one switch, right through to your whole house being automated."

"You consider a smart home solution because it gives you peace of mind. It allows you to check in on your house from anywhere in the world." he adds.

Clipsal Wiser Smart Home can link to a range of features such as indoor and outdoor lighting, blinds, alarms, sound systems, garage doors and even heated towel rails, and give you control of them through the user-friendly smartphone app.

Functional design
Wiser works in tandem with stylish Clipsal Iconic switches and sockets to offer a wide range of functionality such as timers, dimming and 'moments', where actions are grouped together for specific occasions: an 'entertaining moment' could dim downlights, turn on music and light up the garden with a single screen tap or voice command. For example:

Their electrician, Ryan Voy of Envy Electrical and Automation also recommends Wiser because of its quality and flexibility. He says it's important to talk to an expert to get an idea of the technology available around lighting and blinds, climate control, security, energy management and home entertainment. "You really want to design the whole installation to meet your family's wants and needs."

He says Wiser can make life easier in so many ways. "You could have the Wiser power point scheduling your Christmas tree lights, or garden lighting being scheduled from sunset to 10pm every night, and even push notifications for your front door opening when your kids get home from school."

"A smart home simplifies your life, giving you time to do the things that you want to do."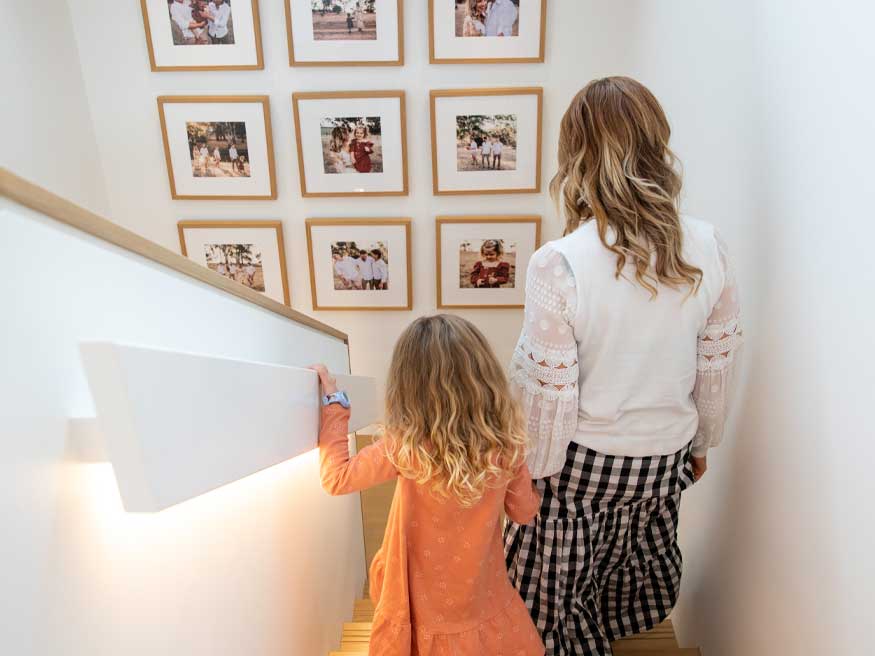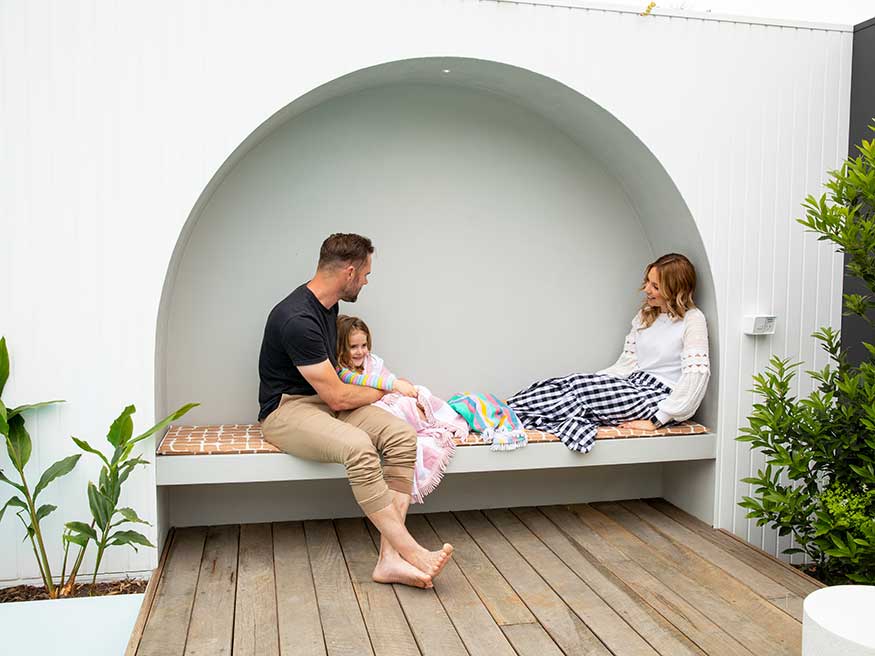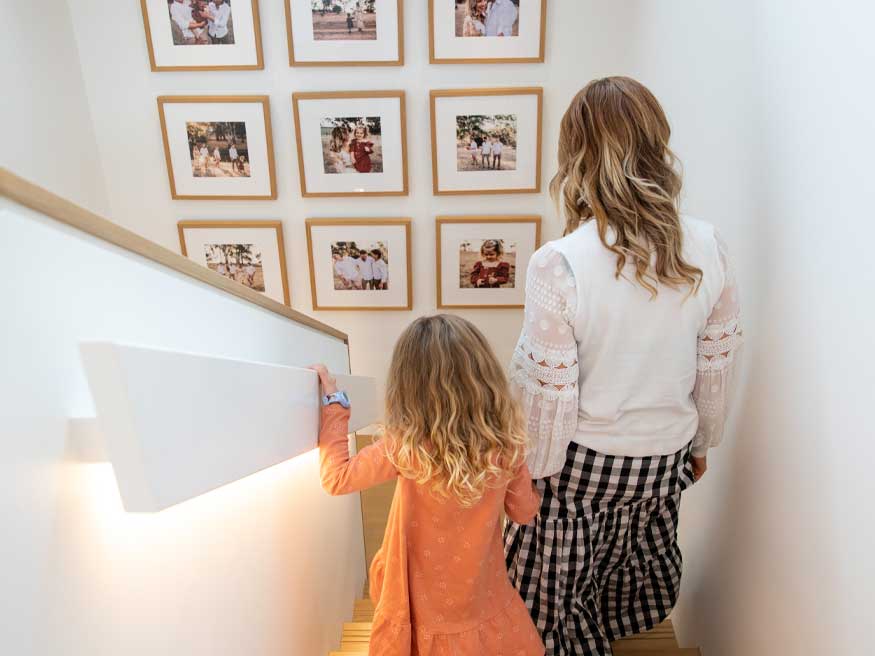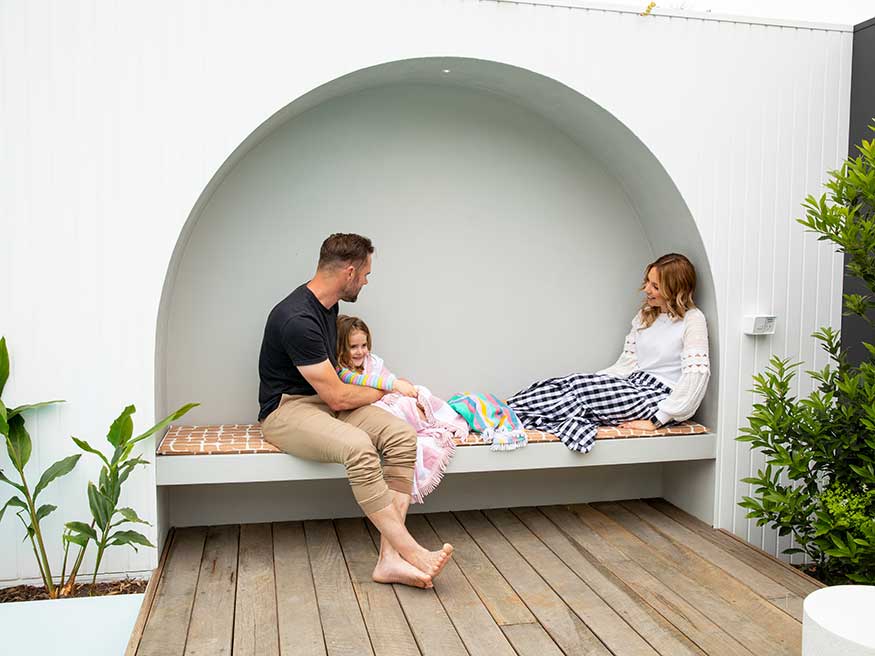 Stylish and smart
From Carmel's perspective, electric home design plays an important role in the interior styling and can enhance the experience of a space in subtle ways.
"A home is not just a house with downlights. We look at vanities that are lit, handrails that are lit, bulkheads that are lit, and lights that turn on and off at different times as you walk up and down a staircase."
Increasingly, people are looking for homes that are responsive and enjoyable to live in.
"We love Wiser Smart Home solutions, everyone from our little girl through to the teenagers can all use it, and we love how it works in our home."

Iconic Outdoor
Carmel adds that as an interior designer, she's noted a recent shift in clients desiring their homes to be more of a sanctuary and a return to natural materials. "People are looking for a change from the rendered home and are now looking at textured brick and textured cladding, stone on frontages and even internal walls, and lots of natural light."
Outside they prefer to use Clipsal Iconic Outdoor, the stylish but robust weatherproof outdoor range of switches and power points and inside they prefer the Clipsal Iconic collection. The range is designed to work with a variety of interior design styles, which Carmel says is a huge advantage.
"At Klemm Homes, the level of detail for our clients is really important. We look at the perfect tile, the perfect tap, the perfect hinge – and also the perfect light switch.
It's fantastic that Clipsal's range has so many options to suit the needs and wants of our clients, and they complement the home so well."

Boutique builder Klemm Homes on Clipsal Wiser Smart Home